◙ 20 years of criminal justice experience
◙ Over 5 years of teaching criminal law courses
◙ Ally for LGBTQ+ and POC in the justice system
◙ Fluent in spoken Hungarian (Beszélek Magyarul)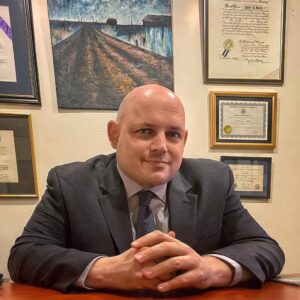 BIOGRAPHY
Peter A. Barta has been fighting for people caught up in the criminal justice system for more than 20 years. A New York City native, he graduated from the prestigious Stuyvesant High School before enrolling at New York University, where he earned a magna cum laude dual Bachelor's degree in History and Politics. Following his lifelong dream to become an attorney, Peter graduated cum laude from Georgetown University Law Center, where he was active in the fight for increased funding of public interest law programs and equal rights for the LGBTQ community.
An ardent opponent of the death penalty, Peter began his law career representing clients charged with capital crimes at New York's Capital Defender Office. He later transitioned to the Manhattan Criminal Defense office of the Legal Aid Society, where as a public defender he represented thousands of indigent clients charged with crimes ranging from drug possession and assault to serious violent felonies such as armed robbery, rape, and attempted murder. A firm believer that everyone deserves a skilled, zealous defense regardless of their ability to pay, Peter fought for each and every client, providing the same kind of skill and expertise provided by high-priced private counsel.
Following his departure from Legal Aid, Peter turned to non-profit work, providing services to formerly incarcerated individuals seeking to reintegrate into society through the Fortune Society and the Center for Employment Opportunities, both nationally recognized leaders in the field of reentry.
In 2018, Peter returned to the courtroom with Goldman and Associates, a boutique criminal defense and civil rights firm focused on representing working class New Yorkers charged with crimes in all five boroughs. Through relentless advocacy and creative legal arguments, Peter was able to obtain dismissals or sharply reduced dismissals in a variety of serious felony cases, including several homicides and A level drug offenses.
In 2020, Peter decided to bring his skills and years of experience to a new venture, a solo practice in which he could continue the fight to protect the rights of New Yorkers facing the awesome power of the State in local and federal courts. The Law Offices of Peter A. Barta are dedicated to the proposition that everyone is entitled to high quality representation delivered in a compassionate, client-centered manner.
Peter has taught both Criminal Justice and Criminal Law at Borough of Manhattan Community College (BMCC), where he highlighted the ways race, class, and gender serve to distort the impartial ideals of the Criminal Justice System.
Peter is admitted to practice in New York State, and the United States District Courts for the Southern and Eastern Districts of New York. He is a member of the New York Association of Criminal Defense Lawyers and a Notary Public. The son of immigrants, he speaks fluent Hungarian.